| | |
| --- | --- |
| Posted on February 6, 2015 at 9:17 AM | |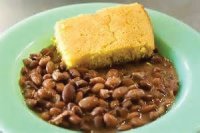 Those of you that work away from home know that takes a bit of planning sometimes to serve an evening meal after working all day. Well I have that challenge today. I got a call yesterday and found out we will have supper guests this evening. President Obama and his gang are coming to Indianapolis and he wants to come by the house to eat cornbread and beans!

If Joe Biden is with him that will mean fried potatoes! Joe is a fried tater freak. You could fry him 10 pounds and he would eat them all. He likes to have them fired in bacon grease. He said his wife won't use bacon grease at home. She is an olive oil person. He says he has to come to the heartland to enjoy animal renderings. The problem is that Joe likes his taters with onions but Michele doesn't. She says that onions give her gas. Well hey, she will be eating beans so whats the difference? I bet there has been flatulence on Air Force One plenty of times. She is absolutely crazy after my homemade bread and butter pickles. She claims her cucumbers didn't do any good in the White House garden. Yeah right! She can chow down and eat a whole jar just by herself. The last time she was here they said she moaned on the plane with a belly ache all the way back to DC. She always manages to finagle a few extra jars to take with her every time she comes. I heard she served some to a Polish ambassador and claimed them as her own. So cheeky.
The President he loves my coconut pie. He says it reminds him of the pie his nanna made when he was a boy in Hawaii. He is a 4 egg white meringue man. The taller the meringue the better for him. I told Leslie to hide the liquor because if the press corp comes they are notorious boozers. The last time they were here there wasn't a drop of Old Grandad left anywhere. The secret service guys like to eat jelly on their cornbread so that will make a big dent in the homemade jelly reserve. I always worry because I know their piston grips get all sticky from blackberry fingers. I hope no one needs to eat Kosher because I am throwing ham in the pot. All this but the worst part is the really big protocol question. Do I fix brown beans or white beans? I hate having to plan an affirmative action menu.
Categories: None
/